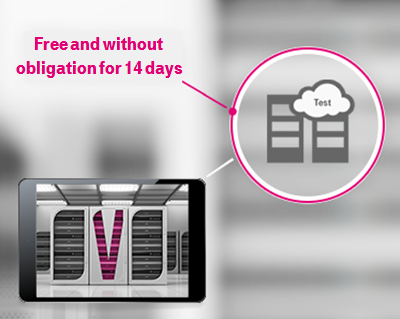 DSI vCloud Test
Try DSI vCloud for free and without obligation for 14 days.
The demo version includes 2 Virtual Data Center (vDC) for testing purposes:
1x vDC XS in the Data Center A, one public IP address,  500GB DISC Storage Entry, 500GB Disc Storage Normal
1x vDC Basic in the Data Center B, one public IP address (Restricted to 50.7 GB RAM, 9 vCPUs, 50 virtual networks and 500 GB per storage class)
Access to the Self-Service Portal and the API from the Internet
Access to the T-Systems vApp catalog
---
0.001 € / 14 days
1
This service is reserved for business clients. Service availability will be verified individually.